School Info
Gregory M Platt
Middle School Principal
greg.platt@k12northstar.org
452-8145 x14501
Address
600 Trainor Gate Road
Fairbanks, AK 99701
School Hours
Students: 9:30 am - 4:00 pm
Office: 8:30 am - 4:30 pm
Announcements & Upcoming Events
Parent-Teacher Conferences
Parent-Teacher Conferences will be held Monday, February 16th, 2015, from 10:00 – 1:30 and 2:30 – 6:30. On Tuesday, February 17th, the conferences will be held from 8:00 – 11:00 and 12:00 – 4:30. The morning sessions of the conferences will be held in the teacher's classroom. The afternoon sessions will be arena style and are located in the front gym and the cafeteria.
Below are some suggestions that you might want to consider:

* Before you come to the conferences, jot down specific questions you want to ask the teacher(s)
* Rank in order the teachers you want to visit
* Try to come to conferences at a time when you are not rushed
* Sign-in at the table at the front office
* Get a map of the building if your child is not with you
* Ask for a schedule of your child's classes if you need one
* Bring a book to read if you have to wait to visit a teacher
* Update any pertinent information regarding your child in the office
While you are at the conferences, please go through the Lost and Found table for any of your child's lost items.

Tanana Middle School student keeps her school green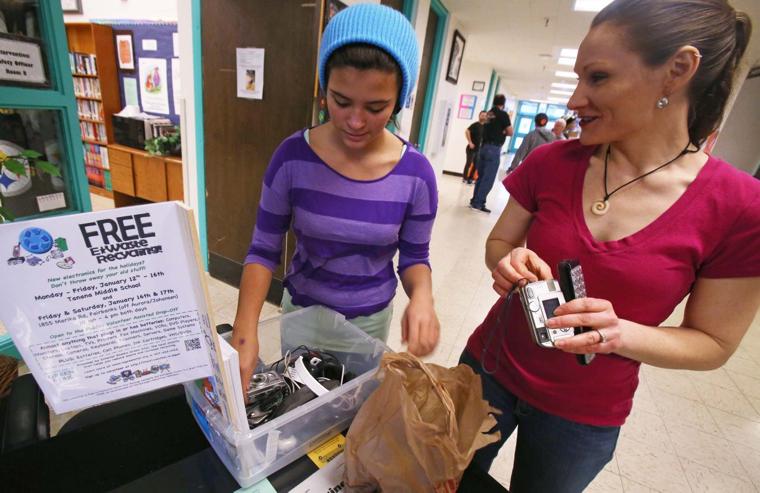 FAIRBANKS — Arusha Patterson is 12 years old, but she doesn't let her age stop her from making a difference in her community.
Arusha has been volunteering with Interior Alaska Green Star at its Fairbanks recycling facility at 1855 Marika Road for months. Each month, Arusha makes the trip to the Green Star facility with her brothers and her grandpa.
She helps out every month at Green Star's Electronic Recycling Depot events, collecting and sorting unwanted electronics from community members.
Recently, though, she decided to take her volunteer work outside the Green Star Depot and bring the effort to her classmates at Tanana Middle School. She realized during winter break many of her peers likely would be receiving new electronic gadgets for the holidays.
Read full article
Pledge Tree
Ms. Macedo's seventh grade Advisory class created an Anti-Bullying Pledge Tree. What started as a small Advisory lesson has blossomed into a school-wide anti-bullying campaign. Students were given a leaf and asked to write his or her pledge to stop bullying. Ms. Macedo's Advisory students took all of the messages and created the tree in one of Tanana's main hallways for all to see and to serve as a daily reminder of Tanana's anti-bullying message. Her Advisory class hopes that if everyone does something to help stop bullying, then it won't be present in our schools.
Student Assessment Pilot Test
The district has begun a pilot test of the Measurement of Academic Progress (MAP).
MAP is a nationally-normed assessment for reading, math, and science that compares a student's achievement level with their peers throughout the country. MAP is used by school districts across the nation to measure student growth and identify learning needs. The Fairbanks School District will use this pilot test to determine if MAP will be a useful tool for assessment of student learning objectives and meet the need for a district-wide, norm-referenced assessment.
If you have questions about this activity, please contact your school principal.
A Parent Guide to Alaska's New Assessments
Information regarding the new Alaska Mearures Of Progress can be obtained by clicking on the link below.
Alaska Measures of Progress (AMP)
Alaska Measures of Progress (AMP) are the new state assessments for students in grades 3-10. AMP replaces the Standards Based Assessments (SBA), which was administered for the final time in April 2014.
AMP is computer-based and will be administered for the first time in spring 2015. Learn more about the new assessments and technology practice tests at the Alaska Assessments website.
Tanana's School Report Card 2013 - 2014
Please view the attached link.
Tanana Bus Routes
Bus schedules for 2014-15 school year have been updated. Routes are subject to change throughout the school year.
If you have questions or need to add a stop please call 452-2000 x 11351 to check on your bus stop, for the most current information, or any questions.
Notes from Nurse Cindy
Immunizations: If you have had a Religious exemption in past, the state requires and updated and notarized Religious Exemption form yearly after each July 1.
Sports Physicals: If you are doing sports you will need a sports physical on file and concussion information form signed prior to tryouts
Medications: If you have any health issues or daily meds please contact the nurse regarding extra paperwork that is needed. DO NOT SEND MEDICATIONS IN WITH YOUR STUDENT. Meds need to be brought in by parent or guardian.
Activities Calendar
Activities calendar can be found under the Sports and Activities tab.
Tanana Middle School Home Page