School Info
Gregory M Platt
Middle School Principal
greg.platt@k12northstar.org
452-8145 x14501
Address
600 Trainor Gate Road
Fairbanks, AK 99701
School Hours
Students: 9:30 am - 4:00 pm
Office: 8:30 am - 4:30 pm
Announcements & Upcoming Events
Teachers give up their locks for cancer research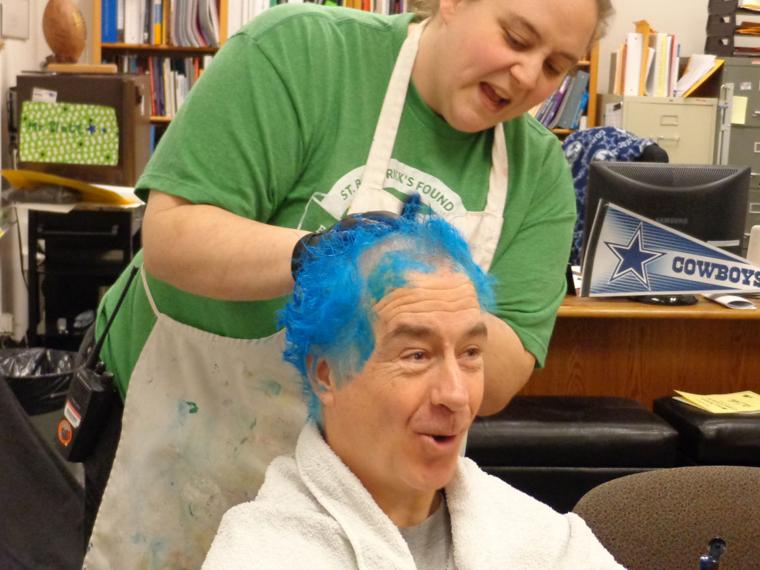 FAIRBANKS — Tanana Middle School students helped fund future cancer research earlier this month when they shaved the heads of their own teachers.
The head shaving took place as part of the St. Baldrick's Foundation's international head shaving initiative.
We have used your information to see if you have a subscription with us, but did not find one.
Please click the button below to verify an existing account or to purchase a new subscription.
Read full article
Revised 2014-15 Calendar
Tuesday, March 24, 2015
The 2014-15 calendar was revised in response to an inclement weather closure.
The last day of school for students has been adjusted to Thursday, May 21.
School calendars are available for subscription in any preferred calendar program.
To subscribe to school calendars:
• Visit the Calendar page on your school website
• Click boxes to customize calendar feed
• Click iCal to generate customized calendar feed URL

School Bus Parking
Students riding the school bus get on and off the bus from the side entrance of the building. Due to the number of students that ride the bus and the large number of buses, for safety reasons, parents picking up their child from the side entrance should not park or drive through the area between the buses and the area where staff vehicles are parked.
The front entrance has a portion of the student pick up blocked off by cones for buses that have wheelchair access. Please allow our buses to park in this section.
Board of Education // Community Survey
The Fairbanks North Star Borough School Board and School District are embarking upon the development of a long-term strategic plan for the district. This strategic planning initiative will provide the district with a road map and clearly defined priorities to help ensure district students receive the best education possible.

A key ingredient to this process is community feedback. Throughout the month of March, the school board will collect input via an online community survey. This survey is designed with strategic planning in mind and your perspective will inform the decision making greatly.
Please take 10-15 minutes to complete the survey – your input matters to the overall success.
ALASKA MEASURE OF PROGRESS (AMP - STATE TESTING)
7TH Grade students will take their tests on Tuesday, March 31, Wednesday, April 1st, and Thursday, April 2nd. The math portion of the test is scheduled for Tuesday and the English portion is scheduled for Wednesday.
8th Grade students will take the Science portion of the test on Friday, April 3rd. Students will take this test in the traditional method of paper and pencil.
8TH Grade students have the math tests on Tuesday, April 7th and the English tests will be administered Wednesday, April 8th.
This is the first year for the state to have the English and math tests taken on-line. We will have two groups taking the tests. Approximately one-half of the students in each grade level will take the test in the morning and the other half of the students will take the test in the afternoon. We must group the students this way as we do not have enough computers for an entire grade to take the test at the same time.
The practices have gone smoothly to make sure students are comfortable taking the state testing on-line.
Make-up tests will be held April 13 - 15, 2015.
School District Canvas Link
Pledge Tree
Ms. Macedo's seventh grade Advisory class created an Anti-Bullying Pledge Tree. What started as a small Advisory lesson has blossomed into a school-wide anti-bullying campaign. Students were given a leaf and asked to write his or her pledge to stop bullying. Ms. Macedo's Advisory students took all of the messages and created the tree in one of Tanana's main hallways for all to see and to serve as a daily reminder of Tanana's anti-bullying message. Her Advisory class hopes that if everyone does something to help stop bullying, then it won't be present in our schools.
A Parent Guide to Alaska's New Assessments
Information regarding the new Alaska Mearures Of Progress can be obtained by clicking on the link below.
Alaska Measures of Progress (AMP)
Alaska Measures of Progress (AMP) is the new state assessment for students in grades 3-10. AMP replaces the Standards Based Assessment (SBA), which was administered for the final time in April 2014.
AMP is computer-based and will be administered for the first time beginning this week. Learn more about the new assessment and technology practice tests at the Alaska Assessments website.
Students in grades 4, 8, and 10 will take the Alaska Science Standards Based Assessment on April 3, which remains a paper and pencil test.
Tanana's School Report Card 2013 - 2014
Please view the attached link.
Tanana Bus Routes
Bus schedules for 2014-15 school year have been updated. Routes are subject to change throughout the school year.
If you have questions or need to add a stop please call 452-2000 x 11351 to check on your bus stop, for the most current information, or any questions.
Notes from Nurse Cindy
Immunizations: If you have had a Religious exemption in past, the state requires and updated and notarized Religious Exemption form yearly after each July 1.
Sports Physicals: If you are doing sports you will need a sports physical on file and concussion information form signed prior to tryouts
Medications: If you have any health issues or daily meds please contact the nurse regarding extra paperwork that is needed. DO NOT SEND MEDICATIONS IN WITH YOUR STUDENT. Meds need to be brought in by parent or guardian.
Activities Calendar
Activities calendar can be found under the Sports and Activities tab.
Tanana Middle School Home Page